We hardly can believe how fast the year has passed by and we have been living in our house here for 2 years now.
We have read through the 2018 annual review again. A lot of things are already so far away and the warm water and electricity are so normal.
But also this year we have experienced a lot and had to cope with many challenges. Let's just start …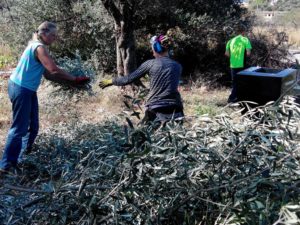 Our shredder, which we received in January, was able to prove what it can do fairly quickly. And we are delighted – it is a great help to us, especially as we can use the chippings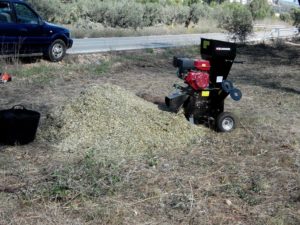 very well in our planting cycle. It is really fun to work with our "Hugo". You have a huge pile of branches and in no time at all there is only a small pile left 🙂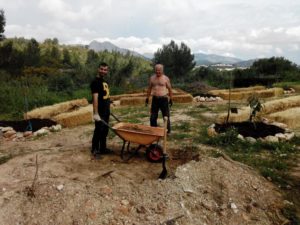 In spring we planted many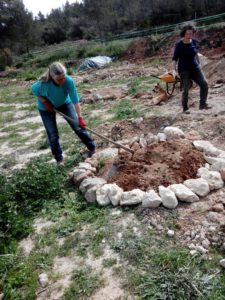 various fruit trees and bushes, which is always a challenge in our terrain, but we got a lot of help with this as well. The nice thing is that most of the
fruit trees were donated by our friends.
Many thanks to you all!












Then the great rain came around Easter; 2 times 5 days. We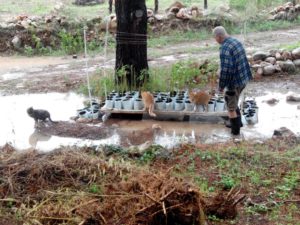 were totally saturated with water, actually already too much at once, because the ground could not absorb the water at all and so we had some lakes on our property for some days and the small Moringa trees had to be saved from drowning. But the rain had a good thing – all deposits were full 🙂 even overflowing.



The next challenge had to survive our citrus trees and the vetifer grass, because they were uprooted three times by wild boars at night 🙁
We made many attempts to keep the wild boars away, but many failed until we pulled an electric fence and hung empty water canisters on a string to make some noise. So far it has worked out that the wild boars take a different route. We hope it will stay that way.
In May our car let us down. Spare parts were hard to find and so we didn't have a driveable set of wheels for six weeks 🙁 How great that we have soooooo nice neighbours – uff.
For them it was not a matter of course that we got their car for shopping, fetching water from the spring, airport trips etc. – What a blessing –


Then came the next hammer: The lower deposit, where the rainwater from the roofs
is collected, lost all water – 10.000 liters!! What a sh… We could have cried – but that doesn't help. So go on …

We scraped together all the money we could to get it fixed. They put in a liner that was welded together. Now it looks like an underground swimming pool from the inside 🙂 and is more flexible, if the mountain moves a little bit.
But not enough with the water problem, because an installed pool, which also served us as a water reservoir, was pierced by the roots of the bamboo and we lost another 2.000 liters of water – and this shortly before summer.


In July and August we fetched every 2nd day 300 liters of water with containers from the wash-house in the village to help the trees to survive – and it worked 🙂
But the worst 3 days this year for us were in July, when our horse Wotka died.




In the hot time we wanted to proceed a bit slower
we thought. And so we had the "stupid" idea to make the workshop rainproof; but then we also painted the walls and agreed that a dust-free floor also had to be. So we laid tiles in August – what a torture, because we only had large tile leftovers and the tile glue was dry in an instant. But in the end we were more than happy, because we both like it very much.
At the beginning of September the gota fria (the cold drop) came – actually very soon. Again 5 days of very heavy rain 220 liters per square meter. And again lakes everywhere.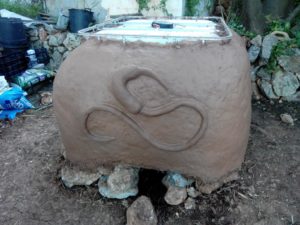 In October/November we again had very nice helpers here and were able to make some progress. We also built a kind of compost toilet (Lumbricera), which is already in operation. There is a more detailed description here.
Then at the beginning of December we had another gota fria, which is rather unusual at this time of year. 260 liters per square meter in 1 day !!! We had enough water – now all deposits were overflowing and our already battered road was a disaster 🙁 – Well, every quarter has its two sides.
The remaining days of December brought us sun and warmth, except the 1 week before Christmas, when we had tremendous winds, storms and gusts – like hurricanes.
We almost got off without a scratch – thank you, dear creatures of nature, for protecting us so well.
All in all, it was a year with many challenges, solutions, creativity, many helping hands and other support, good conversations, lovely visitors and … the many things that are still not finished, because something else shifted into the foreground (postponed is not cancelled 🙂 ).
Since Christmas the calendula flowers have been blooming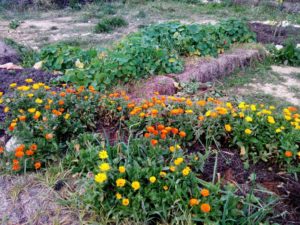 and capuchin is competing with them. 🙂


We are very grateful for having mastered everything so well so far, as well as for our life in and with nature and all the learning processes. Thanks for all the loving people we are in contact with and for everything we have.
We are looking forward to the year 2020, which has already begun, and are very excited about what it will bring 🙂


What we of course cannot miss: siesta, one, two or many paellas with dear friends and helpers, culinary salads and … the dog taxi 🙂